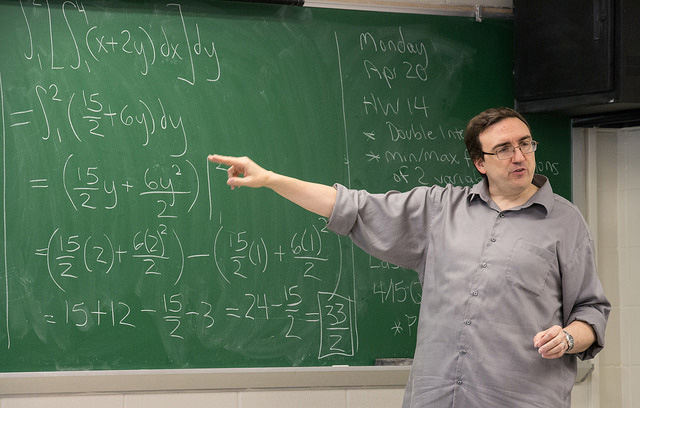 Coming soon:
Tech to Teaching Open House
Friday, August 25 | 11:00 a.m. to 1:00 p.m.
Student Center Piedmont Room
Stop in to meet program faculty and learn about your options for completing the certificate. No RSVP required -- just stop by!
The Tech to Teaching program is designed to prepare Georgia Tech graduate students and postdocs for college teaching positions. Through this certificate program, participants will develop a thorough understanding of the scholarship of teaching and learning, and will demonstrate their ability to apply these skills in the classroom.
This certificate program is designed around two sets of learning outcomes. The foundation level captures what participants will learn about college teaching. The five major learning outcomes can be satisfied through a combination of Center for Teaching and Learning (CTL) classes, workshops, and affiliated resources. In the capstone level, participants will practice and evaluate their teaching skills through a substantial teaching experience. Information about workshops can be found here.
Participants completing the certificate will leave the program with valuable knowledge and skills to apply to future faculty positions. In addition to the printed certificate, participants will receive a letter of recommendation detailing their accomplishments in the program. Finally, graduate students completing the coursework pathway may elect to use the Tech to Teaching Program as the foundation for a minor in higher education.
Foundations of Teaching and Learning
What will you learn by the end of this component?
F1. How people learn
F2. Learner differences and motivation
F3. Evidence-based teaching practices
F4. Assessing teaching and learning
F5. Integrating educational technology
How will you achieve the learning outcomes listed above?
One way for graduate students to accomplish this is to complete two CTL courses: CETL 8713 Fundamentals in Teaching and Learning and CETL 8717 Course Design. As an alternative to coursework, graduate students or postdocs can participate in a variety of CTL programming to correspond with the required learning outcomes. A full slate of available programs will be available each semester, matched with appropriate learning outcomes.
Check out the Spring 2017 matrix of learning outcome pathways!
How will your knowledge of the learning outcomes be evaluated?
Participants will submit documentation to demonstrate achievement of each learning outcome to an electronic portfolio.
Teaching Capstone
What will you accomplish by the end of this component?
T1. Apply foundational knowledge to teaching experiences
T2. Demonstrate professional and effective communication skills
T3. Analyze teaching
How will you achieve the learning outcomes listed above?
The teaching capstone requires participation in a substantial teaching experience. Being an instructor of record is the ideal experience and could occur through your home department or in your discipline at another local college. The experience of designing and directing your own course, while being supported by CTL through your Tech to Teaching cohort, ideally prepares you for future faculty positions. However, instructor of record opportunities can be limited. As such, participants can design and propose an alternative teaching experience, such as teaching GT 1000, partnering with campus departments to design and deliver workshop series, or other appropriate alternatives.
How will your knowledge of the learning outcomes be evaluated?
Participants will meet regularly with a cohort of other Tech to Teaching participants throughout their capstone experience. Pre- and post-teaching planning forms will capture your ability to plan for and use feedback from your teaching experience. Your live teaching performance will be observed and evaluated at least two times by your CTL mentor and peers.
Once you have completed the foundation-level learning outcomes and are ready for your teaching capstone, let us know by completing this form.
Getting Started
Ready to join Tech to Teaching? Complete the Tech to Teaching interest form.